Post 105 In The News
Check out these stories that have made the news!
Fayette County News, May 17, 2023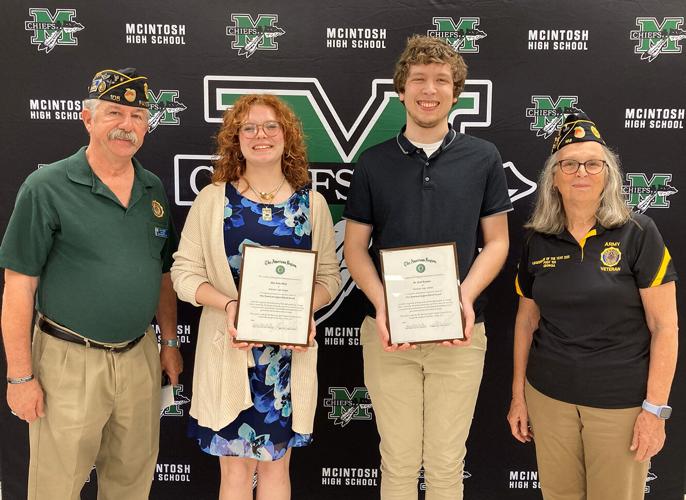 Fayette County American Legion Post 105 supported three local high schools in honoring two graduating seniors at each school with American Legion School Awards.
Whitewater High seniors Chandler Johnson and Emily Agi, along with McIntosh High seniors Emily White and Noah Burgess, were recognized during their schools' awards ceremonies by Post 105 members for qualities of courage, honor, leadership, patriotism, scholarship, and service. Each recipient received a medal, certificate, a $200 check, and their names placed on a permanent plaque in the schools.
Post 105 is the oldest veterans organization in Fayette County and meets the second Monday evening of each month at the historic log cabin in Fayetteville.
Fayette County News, April 19, 2023
American Legion Post 105 of Fayette County acknowledged and presented awards to first responders of Fayette County, Fayetteville, and Tyrone at the post's log cabin on April 10. This was Post 105's 15th annual public safety awards ceremony, where members awarded first responders for their heroic actions and recognized their families for their support.
Past Post Commander Dave Niebes provided Fayette County News with background on the public safety awards. "For years, our legion post has honored first responders from across Fayette County during the month of April. At one time we were the only legion post in the county, so we kind of did all the jurisdictions, including Peachtree City, but now Post 50 moved to town and they took responsibility for Peachtree City," explained Niebes.
Niebes went on to list the first responders Post 105 honors. "But we honor all the other first responders. The Fayetteville Police Department, Fayetteville Fire Department, the Tyrone Police Department, Fayette County EMS and Fire, the FC Sheriff's Department, the marshals… those are the people that are going to be here tonight," Niebes said.
Post 105 acts as a vehicle to assist chiefs of each department to recognize employees who deserve recognition for their exemplary work, according to Niebes. "We always invite their chiefs. Many times, they show up to present their own people, and their families are here too. We leave it up to the chiefs to select people that are their top performers and people that need to be recognized for whatever reason. We're just a vehicle that allows us to honor them too," Niebes stated.
When asked of the importance of rewarding first responders, Niebes expressed how first responders are similar to veterans and should be appreciated as such. "In many ways, they're like veterans in serving their community. Veterans may be serving in another part of the word in uniform, but these people are serving right here in our community facing death, facing danger, and, many times, doing things that really need to be done. We have kind of a comradery with them in that regard with community service on a national level, or community service on a local level," said Niebes.
First responders honored at the ceremony included Officer Sara Brandao, City of Fayetteville PD; Officer Travis Hammock, Tyrone PD; Detective David Tortorello, Fayette County Sheriff's Office; Sgt. Bryan Clanton, Fayette County Marshal's Office; Firefighter Matt Noel, City of Fayetteville FD; and firefighter/paramedic Lt. Steven Sullivan, Fayette County Department of Fire and EMS.
Post 105 hosted another successful ceremony honoring first responders and officials say they look forward to next year's event.